A new published work featuring Hooman Latifi from Dept. of Remote Sensing and Siddhartha Khare from Indian Institute of Technology Roorkee presents a full remote sensing-based approach to assess the vegetation diversity across the areas affected and invaded by Lantana camara, an invasive plant species. The study comprises two main steps  utilizing  multi-source satellite earth observation data. The process starts with a supervised classification applied on ery high spatial resolution Pléiades 1A data, and continues with comparing Pléiades 1A, RapidEye and Landsat-8 OLI – assessed plant species diversities.
With detailed mathematical formulation combined with an straightforward methodology solely based on optical remote sensing data, the study is expected to add a new baseline to the existing studies on solutions for remote and rapid estimation of biodiversity attributes in mountaineuous forest areas. Further informaiton on the published paper can be retrieved here.
Bibliography:
Khare, S., Latifi, H., Ghosh, S.K., 2017. Multi-scale assessment of invasive plant species diversity using Pléiades 1A, RapidEye and Landsat-8 data. Geocarto International . DOI: 10.1080/10106049.2017.1289562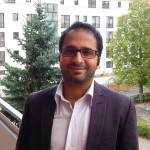 He is an assistant professor at the Dept. of Remote Sensing of the University of Wuerzburg. His reserach interests lie in applied spatial analysis of forest and environmental entities (Structure, biodiversity and health indicators) by means of airborne (mainly LiDAR) remote sensing.