D. Hooman Latifi from the Dept. of Remote Sensing was invited by the Dept. of Geography at the Universé d'angers for a 2-week block course on forestry applications of LiDAR data. The course was consisted of lectures and practical examples within a two-week intensive campus-based teaching started from February 1st, 2016.
The topic focused on introduction to the analysis of laser scanning data (ALS/TLS) by means of theoretical lectures and practical excercises on computer conducted by participants, followed by group-wise oral presentations on selected subjects on the applied aspects of ALS data. Altogether 7 M.Sc students, 6 PhD students, one technical assistant in cartography and two lecturers attended the course.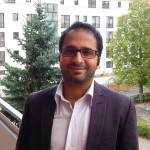 He is an assistant professor at the Dept. of Remote Sensing of the University of Wuerzburg. His reserach interests lie in applied spatial analysis of forest and environmental entities (Structure, biodiversity and health indicators) by means of airborne (mainly LiDAR) remote sensing.