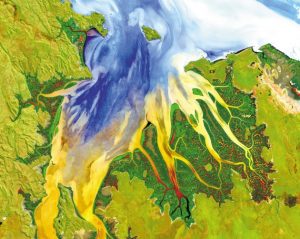 Please see below a full or 50% position for up to 2 years in the WueMoCa project on landuse classification. Due to the fact that german language proficiency is required further details are provided just in german.
Stellenausschreibung: Wissenschaftliche(r) Mitarbeiter(in)
Lehrstuhl für Fernerkundung in Kooperation mit dem Deutschen Zentrum für Luft- und Raumfahrt e.V. (DLR)
Institut für Geographie und Geologie, Julius-Maximilians-Universität Würzburg
Am Lehrstuhl für Fernerkundung der Universität Würzburg ist zum 01. Oktober 2017 die Stelle eines/einer wissenschaftlichen Mitarbeiter/-in zu besetzen. Diese Stelle ist auf 2 Jahre befristet (bis Ende 2019). Die Vergütung richtet sich nach dem TV-L. Die Stelle ist auch in Teilzeit besetzbar.
Der/die hochmotivierte, kommunikative und teamorientierte Bewerber/-in, günstigerweise mit einem fachlichen Schwerpunkt im Bereich der Kartierung von Landbedeckung/Landnutzung, wird sehr eng mit dem am Lehrstuhl angesiedelten Arbeitspaket "Online Tool for Monitoring of Land Use and Water Efficiency" im regionalen Forschungsnetzwerk «Central Asian Water» (CAWa) mit Projektpartnern in Deutschland und Zentralasien arbeiten. In der Funktion eines Projektmanagers wird er/sie einen bedeutenden Beitrag zur Projektplanung und -durchführung und zum Ergebnistransfer leisten. Organisatorische, beratende und wissenschaftliche Aufgaben in einem internationalen Team mit Organisationen in Forschung und Praxis sind Kernelemente der zu besetzenden Stelle. Der/die erfolgreiche Kandidat/-in muss sich mit den Projektinhalten und Prozessen, Zielen, Methoden und Erkenntnissen in der Arbeitsgruppe (Fernerkundung, Web Mapping, Landmanagement in Zentralasien) sowie der übergeordneten Projektstruktur zügig vertraut machen können. Bei entsprechender Eignung und im gegenseitigen Interesse des Lehrstuhls für Fernerkundung und des/der erfolgreichen Kandidaten/-in ist eine weitere Karriere am Lehrstuhl möglich.
Den oder die erfolgreiche Bewerber/-in erwarten abwechslungsreiche Aufgaben wie:
Aufgaben im Bereich der Projektkoordination wie Entwurf, Erstellung und Controlling der zeitlichen und inhaltlichen Planung und Meilensteine in der Arbeitsgruppe/im Projektverbund
Mitarbeit in der fachlichen Maintenance an WUEMoCA im Bereich Landnutzungsklassifikation

Darstellung des Arbeitspaketes AP3 sowie des CAWa-Projekts mit der Präsentation der Projektinhalte und der entwickelten Informationstools (insbesondere WUEMoCA) auf Konferenzen und Workshops,

Unterstützung bei der Projektkooperation mit der GIZ und der Deutsch-Kasachischen Universität (DKU) im Bereich der grenzüberschreitenden Wasserwirtschaft in Zentralasien.

Budgetplanung und zahlenmäßiges Berichtswesen

Erstellung von Berichten sowie Dokumentation von Projektinhalten

Vorbereitung von wissenschaftlichen Projektvorschlägen und Durchführung eigener wissenschaftlicher Forschung.
Einstellungsvoraussetzung ist ein erfolgreich abgeschlossenes Studium oder Promotion in der Geographie oder ähnlichen Fächern mit einem Schwerpunkt in der geographischen Fernerkundung und Geographischen Informationssystemen und des Qualitätsmanagements (Validierung) sowie der geostatistischen Analyse. Wissen zum Land- und Wassermanagement sowie die Bereitschaft zur Erweiterung des Fachwissens sind erwünscht. Erfahrungen in der internationalen Forschung und in der Projektkoordination sind vorteilhaft. Eine eigenständige, verantwortungsbewusste Arbeitsweise als auch professionelles und respektvolles Verhalten werden vorausgesetzt. Ebenso vorausgesetzt sind ausgezeichnete Englischkenntnisse (in Wort und Schrift). Kenntnisse der russischen Sprache sind von Vorteil. Universitäre Lehrerfahrungen in den einschlägigen Bereichen sind ebenso vorteilhaft.
Die Universität Würzburg strebt eine Erhöhung des Frauenanteils an und fordert daher entsprechend qualifizierte Frauen ausdrücklich zur Bewerbung auf. Schwerbehinderte Bewerber/-innen werden bei ansonsten im Wesentlichen gleicher Eignung bevorzugt eingestellt. Ihre aussagekräftige Bewerbung mit den üblichen Unterlagen richten Sie bitte per E-Mail bis spätestens 15.08.2017 an:
Prof. Dr. Christopher Conrad (christopher.conrad@uni-wuerzburg.de) über das Sekretariat des Lehrstuhls für Fernerkundung in Person Frau Christine Linge (christine.linge@uni-wuerzburg.de) Institut für Geographie und Geologie / Universität Würzburg / Oswald-Külpe-Weg 86 (Campus Hubland Nord) / D-97074 Würzburg; Tel: +49-931-31-88266