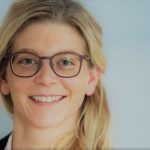 Carina Kuebert-Flock

(

9

)
In school times I was courted by astronomy and geography. Geography won and Prof. Dech's Department of Remote Sensing at Würzburg University made a good case for it. Instead of looking to the skies, I decided to observe our Earth from them.
My research interests include the potential of Earth observation data for phenological monitoring, the drivers of changes in vegetation development and bridging the gap between in situ and remotely sensed phenological parameters. I finished my PhD thesis on the assessment and analysis of land surface phenology and I love passing on what I've learned to our students.